STEP 1: FINISH SHOPPING
After you've finished shopping, head to Checkout to see gifting options. Look for the gift box icon and click on Add Gift Options:

STEP 2: CHOOSE YOUR GIFTING OPTIONS
Here you can enter your gift recipient's name, an optional gift message (up to 120 characters), and select to have this message printed on the invoice for free or have the item gift boxed with a card containing your message for $4.95.
In this case, I've added 2 Just Ripe Fruit Bowls to my basket and I only want to gift box one. I'm planning to send one to my mother and one to me. Don't forget to click Save when you're finished!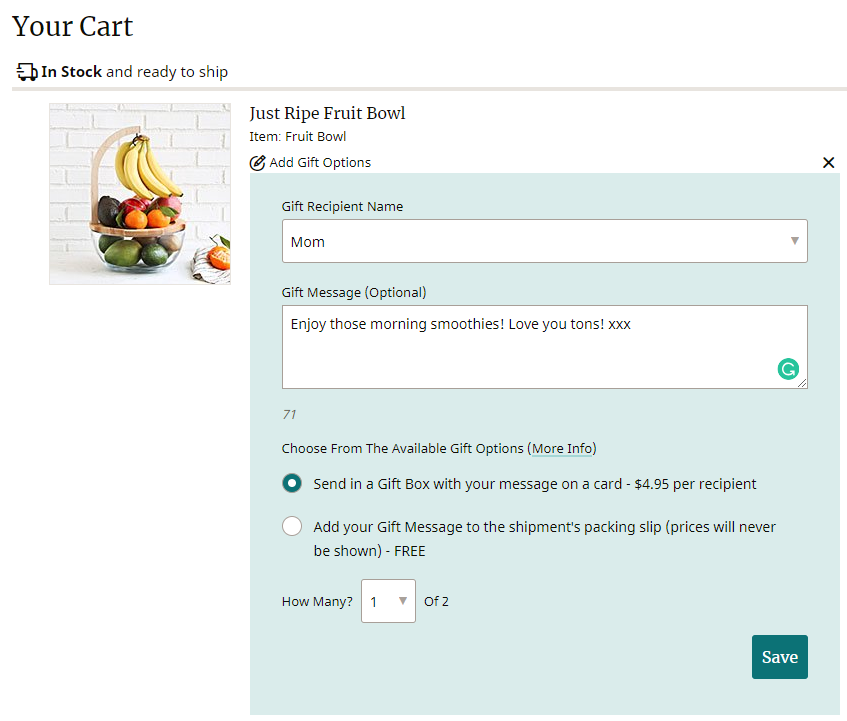 STEP 3: REVIEW
You can review your gift options after you press Save and you can still add more gifting options. If I wanted to send the other bowl to my aunt, for example, I could click on the Add Gift Options link again and repeat STEP 2 for her gift. 
You can also review your gift message again if you'd like to be sure that you've entered everything correctly. Just click on the 'edit' link.
STEP 4: CONTINUE THE CHECKOUT PROCESS
Click here for information about how to ship to multiple shipping addresses.
If you run into any snags and need some help, you can live chat with us or give us a call at 888-365-0056